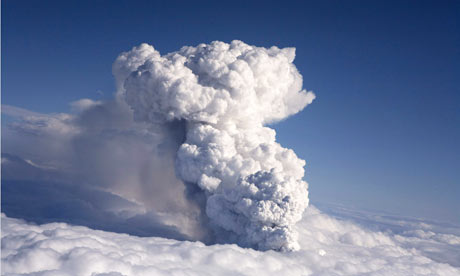 Image Source: The Guardian
As many airports across the UK and Northern Europe close today due to the Icelandic volcanic ash cloud, many news sites such as the Guardian and the BBC are covering the disruptions.
The effects of aircraft being grounded for disabled travellers may not only be inconvenient but also a health risk in itself. For many disabled people there are issues surrounding unscheduled extensions of holidays and business trips.
If they've already arrived at the airport after a long journey there will be a lot of waiting around to see what the situation is. For those with reduced mobility, such as wheelchair users, this could mean remaining in their chair for much longer than normal which can cause medical complications such as pressure sores or swelling in the legs and feet.
For disabled people who are stranded abroad and are trying to get back home, there could be even more problems through not having enough medical supplies with them such as prescription medicines or catheters.As well as this, with many people being stuck all at once, finding a suitable hotel near the airport with availability and facilities for disabled people could prove to be a difficult task.
Obviously, nobody is to blame for this natural event and the Civil Aviation Authority are merely taking the necessary precautions through grounding aircraft, but flight delays can be more than just inconvenient for disabled people.My advice for disabled travellers would be:
In the event of flight delays such as today, go directly to the airline help desk at the airport and clearly explain your situation and what you require.
If there are going to be significant delays, ask the airline to provide you with accommodation (and suitable transport to it) to avoid any risks to your health.
If you've already checked your bags in and need their contents, ask the airline staff to return them as soon as possible.
If you require any other mobility aids during the extended stay, such as a hoist, ask the airline staff to provide it (it maybe the case that you hired a mobility aid that you require at the destination but no longer have it with you).
If you require any medication or other pharmaceutical aids during your trip always take more than necessary. It maybe bulky and slightly inconvenient, but it is best to have too much than too little.
In general a little advance planning when travelling with a disability helps, but things sometimes go wrong. Try to keep calm and concisely communicate your needs to the relevant staff to get assistance with what you require.